Carousel type blister heat sealing machine HC63 is suitable for the manufacturing of face-seal blisters (blister to a single backing card) or trapped blister (sealed between two cards). Blister packaging.
Features
Dedicated to the production of medium and long runs.
Flexible and modular design of the carousel that allows the number of stations to be expanded.
Automatic blister feeding.
Automatic carton feeding.
Designed to incorporate a thermoforming station for on-line blister feeding.
Quick change of pallets without tools.
PLC operated, touch-screen controlled.
EU safety rules compliance.
Operation
The HC63 carousel integrates all the necessary operations for the sealing of a blister, from bubble feed, through loading of the product, sealing and to the expulsion of the finished blister.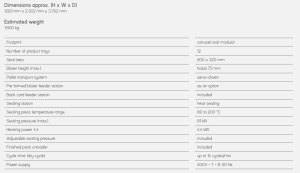 Em caso de interesse nos nossos produtos e queiram fazer uma consulta sem qualquer compromisso, aguardamos pelo vosso contacto, por telefone, email ou preenchendo o formulário que se segue: